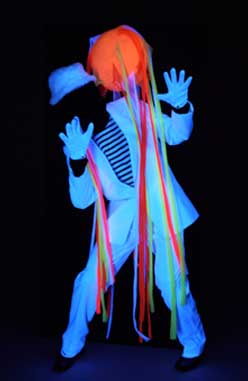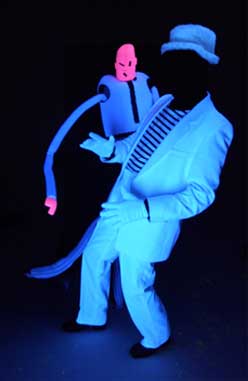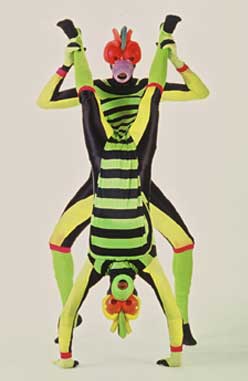 Black Light Magic
Performed by the Omimeo Mime Theatre
Jan. 15-17, 2010 • Wachovia Playhouse
Front Orchestra $14.00 ? General Section $12.00
Back by popular demand, Omimeo returns with an electrifying reprisal of "Black Light Magic". Charlotte's premier mime ensemble and special guest artists present an amazing display of visual artistry, dazzling lighting and special effects. Included in this year's performance is their award-winning "Ping Pong Matrix" plus a few extra surprises. Omimeo creates a one-of-a-kind theatrical event, weaving the techniques of black light illusions with the comedy and mystery of mime. Get your tickets early for this astounding magical adventure!
For Ages 5+/Grades K+
Best enjoyed by Elementary and Middle School ages
_____________________________________________

Founded by its Artistic Directors Hardin Minor and Eddie Williams in l978, OMIMEO has been present on the Charlotte cultural scene through its participation in a variety of annual events. As a long standing affiliate of the Arts and Sciences Council, OMIMEO has supported the ASC"s annual Fund Drive and the First Night Event during its ten year history.

OMIMEO has strong ties to the Children's Theatre of Charlotte (1017 E. Morehead St.), having produced its one-of-a-kind theatrical performances since its inception. Both Hardin and Eddie helped to reopen Spirit Square in 1976 before joining forces to create OMIMEO. OMIMEO's dedication to the community is evidenced by its participation over the years in the United Way campaigns, along with many church and family events. This gem of a company has contributed to the education of our community's children via its ongoing commitment to its art form through workshops, residences, and lecture demonstrations in CMS, the Public Library system, UNCC, the Community School of the Arts, the Mint Museum of Art, the Afro-American Cultural Center, and other private or cultural institutions.

As members of OMIMEO Mime Theatre, Hardin and Eddie have dedicated a portion of their lives to maintaining the art form of mime through a series of collaborations with such kindred organizations as the Charlotte Symphony Orchestra, the Charlotte Youth Ballet, the Grey Seal Puppets, the Singing Christmas Tree, and Charlotte Center City Partners.

Part of OMIMEO' s unique contributions has been its willingness to feature guest artists as part of each season's show. Aerialist Meg Elias, comedy juggler Sean Emery and the Fettucini Brothers, magician Amy Arpan, Broadway and Cirque star, Kenny Raskin, spiritual jester Doug Berky, Blacklight pioneers TRIPLEVISION (Skye Leith, Ted Shapiro, Alice Farley), actors Duke Ernsberger, Mike Corrigan and James Dracy. The list is long and strong.
Kudos
OMIMEO returns with its sold out award winning "Black Light Magic " show. The Metrolina Theater Association awarded OMIMEO "Best Director" in the "Special Event" Category 2007. OMIMEO also received a BEST SPECIAL EFFECTS Award in 2005 for their "PING PONG MATRIX" sketch that they will revive for this year's show.
For more information on our featured performers visit their web sites below: