BRAVO! I'm so glad you joined me here to find out more about the wild, wonderful ENTERTAINMENT options you have with Hardin and me.... Harlequino! I am one of 15-20 different characters that Hardin has ready to surprise your guests at your next event. Many clients choose a character to fit in with a theme. For example, HARLEQUINO is a Commedia style character who can mix it up at a MARDI GRAS party, a Medieval or Renaissance Festival or an Easter event. I can perform as a silent whiteface jester or a talkative, masked fool meeting & greeting and/or strolling with juggling, props, comedy, balloons and if desired, fire techniques.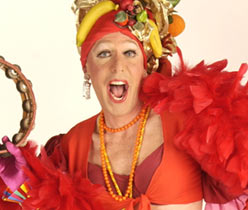 Hardin has entertained at a just about every conceivable type of event including : Fund raisers, birthdays(adults & kids), gala events, grand openings, bar/bat mitzvahs, wedding receptions and parties of all kinds during any season or holiday of the year. He can function as a greeter, an MC, a GamesMaster, a Statue, an Interactive, a party energizer, Guest director or a Dance Animator. As a seasoned professional of over twenty five years, he can perform at a high or lower level of intensity always knowing when to pull back or pump up the energy . As an actor, he imbues his characters with a unique sense of theater that gets the guests involved in having FUN
From the bawdy to the sublime, you will most likely be able to find a character(s) that will fit perfectly into your event design. Some are visual puns like the FOUR ARMED WAITER, or the Dancing Dummy LOLA or Sparky Hooterman, the All American Nerd. Others are impersonations like AUSTIN POWERS, The GRINCH, ANDY WARHOL and Carmena Bonanza . If you wish, Hardin can create a special character for you. Top Hat & Tails, Funky, Bizarre; White face silent, Hilarious or Obnoxious. It's your choice ! And that's part of the fun!